CENTRO SOLDERA AUTOGRU
The company's points of strength are the competence and dynamics of our highly prepared technicians who are always updated and forefront. Request for assistance or spare parts-identifying the problem or the item-sending the technician or the spare part in a vey brief time and extremely professionally. C.S.A. is situated in a very strategic location for the entire North of Italy within a range of 300 kms and near major airports. Our long experience over many years allows us to manage old machinery with competence and expertise, while still being competitive with new generation machines, due to constant updating on behalf of our technicians.
EUROPE, AFRICA AND THE MIDDLE EAST
C.S.A also gives assistance in realizing new projects in collaboration with the lifting builders, the electronic management of the cranes, specially on the load limiters as authorized dealer of Wika Mobile Control and Pat Kruger.
OUR INTERVENTIONS
The globalization of the market has led C.S.A. to carry out more and more work in various countries, with the work-force of local technicians. C.S.A technicians are all highly qualified and kept constantly updated on market innovations due to frequent updating course held at the Head Offices or at component suppliers facilities
EQUITORIAL GUINEA
Our technicians carried out the general check up of the entire fleet: 20 cranes substituting in loco the slewing ring of a Liebherr LTM 1200 with auxiliary assistance of local workers.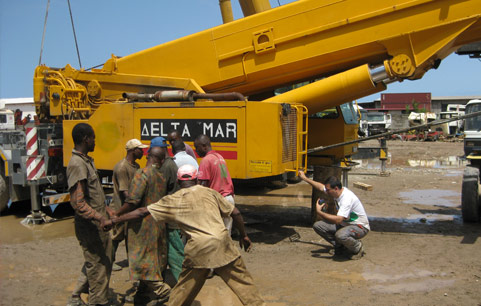 ZAMBIA
Our technicians carried out the whole review of a Locatelli and Krupp crane with the auxiliary assistance of local workers.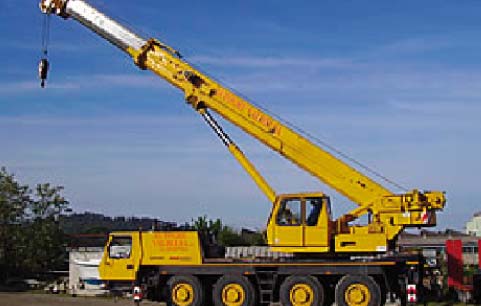 MOZAMBICO
Our technicians in Mozambico during an urgent intervention on a Grove crane.



ROMANIA
Technical evaluation of an overturned crane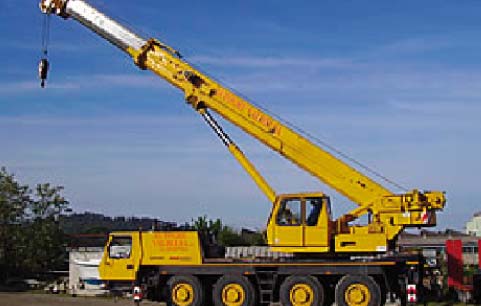 Spare parts for cranes
We offer a quick and professional spare part service which reduces machine downtime to the minimum. Our workshop also manages reconditioned parts ready for an exchange program.
Technical assistance cranes
We offer a quick and professional service at our facilities or wherever it might be necessary, in Italy and abroad. The C.S.A. technicians are highly qualified and always updated on market innovations, through frequent training courses held at the Head Office or at component suppliers facilities.
AUTHORIZED DEALER
As an authorized dealer C.S.A. deals with Manitowoc, Grove-Krupp-Coles and Wika Pat Kruger brand parts. On request, spare parts branded Terex, Locatelli, Demag, Hyco-Bendini, Rigo, Marchetti and Eurogru Amici can also be found.
MANITOWOC is leading manufacturer of cranes and lifting solutions and is a symbol of quality and efficiency. They are part of the group: Manitowoc, Grove, Krupp and Coles.

Grove was founded in 1947 and is one of the world's most important manufacturers of hydraulic cranes with production plants. The range of Grove products includes All-terrain, truck-mounted, All Terrain Cranes, Grove YardBoss, Industrial Cranes, and Shuttlelift Industrial Carrydeck. The lifting capacity for these varies from 8,6 ton (8,5 USt) to 558,8 t (550 USt).

WIKA MOBILE CONTROL: With the acquisition of the historical know-how of Pat Krueger, at the headquarter of excellence in Ettlingen (D), propeses itself as a designer-manufacturer of control systems for lifting equipments and more.
WHERE WE ARE
Phone +39 035 901081
CSA SOLDERA SRL
Via Don Minzoni, 7 - 24042 Solza (BG) - Italy
phone. 035 901081 - fax. 035 4931249
e-mail info@csasoldera.it - P.IVA/C.F. 02580750160
REQUEST AN ESTIMATE QUOTATION